Nozovent Review
Published On October 16, 2017 |
Reviews
I really liked the Nozovent - though it's definitely not perfect. It's different, and it might not work for everyone - but in the end, I found more than enough evidence to warrant giving it a try.
Strength in Clinical Studies
50%
Introduction – Nozovent Review
The Nozovent is a stop snoring device that was designed and developed by an E.N.T. specialist named Bjorn Pertruson, M.D.
The product puts an interesting spin on the nasal dilator idea, and even seems to blend this with the idea of a 'nasal strip' to achieve a truly interesting concept that's not quite like anything else I've ever reviewed.
Of course, I was a bit intrigued – and was quickly impressed by the online presence and attention that this product has received. But is it a quality snoring solution – or does it lack what it takes to be a top-contender?
Here's what we found out about the Nozovent over the course of our research.
Product Details
The Nozovent device comes in two different sizes – medium and large. It's made from a springy, flexible plastic called polyeteramid, and is outfitted with small, specially-designed nodules that were designed to keep the device from making contact with the mucous membranes.
Type
This product is technically a nasal dilator – though it could definitely be said that it operates a bit like a nasal strip as well. I really felt that it seemed like a combination of the two different product types – which is pretty cool.
Clinical Studies
According to the Nozovent official website (source: https://www.scandinavianformulas.com/consumer-products/nozovent/), this product has been put to the test in several clinical trials. Here is a small excerpt from the Scandinavian Formulas website on the subject:
"In several clinical studies, Nozovent has demonstrated continual effectiveness to decrease snoring, help breathing, and improve sleep. Nozovent gently widens nasal passages to increase airflow up to 50%, dramatically reducing or eliminating snoring."
I was a bit disappointed at the fact that no links to the actual data were supplied. I always feel like clinical data and test results are critical when discussing the legitimacy of a product like this – and sadly, I was a bit let down that I didn't find more of this information readily available on the product website.
Is this product FDA cleared?
As far as I can tell, this product is not FDA cleared. The plastic used to make it, however, is said to be pharmaceutical grade plastic that is approved by the FDA. I found this on the Amazon.com page where Nozovent is sold.
In Australia, you can buy Nozovent from chemistdirect.com.au. It'll cost you $18.95 to order it from this seller.
Scandinavian Formulas is a company that sells chemicals, ingredients, and bulk products. On their website, they say that customers throughout the world choose to use them because they offer competitive pricing, timely delivery, and superb customer service.
According to the official product website, the business address for this company is as follows…
140 E Church St
Sellersville, PA 18960
I haven't seen any scam complaints for this product – which is a good thing. I have heard a few negative reviews, but nothing to indicate that it isn't a legitimate product.
How does the product work?
The Nozovent basically works by opening up the nasal passages – thereby creating more room for airflow through the nostrils. This is accomplished through the use of a springy device that you place carefully into the nose. Once released, this small plastic device expands – thereby opening up the airway and promoting nose breathing with minimal constriction.
Of course, the Nozovent might not help as much if your problem is related to constriction of the soft palate in the back of the throat – which is perhaps one of its downsides. It really only affects the nasal passages – so nasal snoring is probably where it would tend to help the most.
What are actual customers saying?
Actual customers are saying a lot of things about this device – both good and bad.
"This simple device works very well for me, and it's also cheap. I find that each one lasts about a year before it becomes so soft that it won't stay in places. I've been using these items for many years and wouldn't be without them. Indeed if I dont put it in place at night, my nostrils tend to close and I cease to breathe comfortably."

"Well I was living in hope that this would cure my snoring but after the first night when my husband said he never heard me it went down hill from there. There is one good thing about it though and that's the easier breathing so I am sleeping better with it but the snoring's still as bad."
These are examples of good and bad reviews that I've read, and are pretty typical of what the majority of customers seem to think. I found more positive reviews than negative though – which is definitely a good thing.
---
What you can expect
At first, you might have a bit of a tough time keeping the product in all night long. A lot of customers seem to have a problem with it either coming out by itself or removing it without realizing that they're doing it. After a few days, you should also notice that most of the initial discomfort (if any existed) will have disappeared, and that you'll have started to get used to it. After a week or so, you should start to notice it feeling more and more natural.
Does this brand stack up against the competition?
Yes, this product does stack up against the competition – mostly because it has so many positive reviews, and also because it seems to solve the snoring problem utilizing a design that's, honestly, pretty unique. I've never reviewed a product quite like this one – that's for sure.
Key differences between this product and 'typical' solutions
The main difference between this product and other 'typical' stop snoring devices is the fact that it seeks to stop snoring by opening up the nasal passages with its unique, spring-like design.
Is a prescription or doctor involvement needed?
No. As far as I can tell, you won't need a prescription or a doctor's involvement to buy and/or use this product.
Pros and Cons
Here are the basic pros and cons that I discovered about this product over the course of my research.
Pros
For some, this product worked very well
It has more positive reviews than negative ones
It's easy to use and seems well-made
It's a unique idea that puts an interesting and different 'twist' on the nasal dilator concept
It's inexpensive and affordable
Cons
It can be a bit tough on the inside of the nose if you tend to have sensitive nasal passages
Some customers have said that the product can occasionally 'fall out'
This product doesn't seem to work for everyone. Some people report that it does 'reduce' their snoring without 'eliminating' it altogether
This product probably won't be as likely to help people who have 'soft palate' problems in the back of their throat
Conclusion
I really liked the Nozovent – though it's definitely not perfect. It's different, and it might not work for everyone – but in the end, I found more than enough evidence to warrant giving it a try. Thumbs up to Scandinavian Formulas for developing/marketing a product that's unique and not quite like anything else on the market!
Costs and shipping
If you buy this product from Chemistdirect.com.au, it'll cost you $18.95. Shipping will cost you anywhere from $8.95 to $12.00 – depending on how much the package weighs after the product has been boxed. Delivery from this seller is free, however, if your purchase is valued at $149 or over.
Where to buy
The best place to buy this product (if you live in Australia) is probably chemistdirect.com.au.
Product type: Nasal Dilator
Clinical Studies: Yes (but no specific data supplied)
FDA Cleared: No (but the material used to make it is)
Money Back Guarantee: Depends on where you purchase it
Shipping Costs to Australia: $8.95-$12.00, depending on the final weight of the package.
Screenshot of the website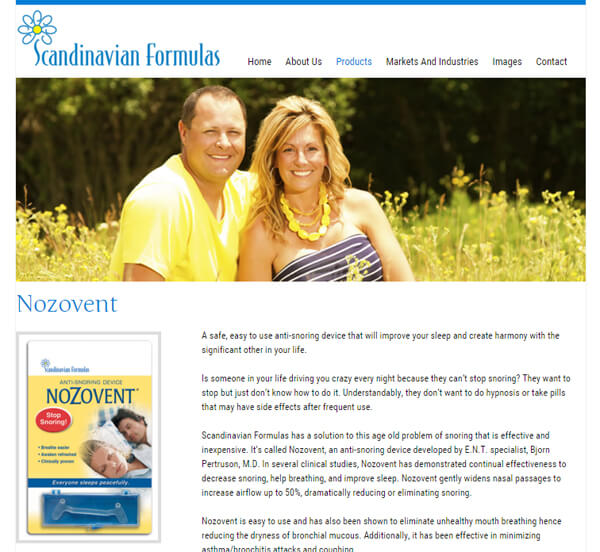 Snoring Devices Australia is dedicated to providing detailed product reviews of anti-snoring devices available in Australia. We also regularly research and publish timely information about snoring and sleep from around the world – to help you and your loved ones achieve a better night's sleep.